With the hype surrounding the Leonardo da Vinci: Painter at the Court of Milan exhibition, I was a little nervous as I made my way to the National Gallery on Friday.
Can an exhibition be that good?
The Telegraph labels it a 'blockbuster'. For Andrew Graham-Dixon, it is a "breathtaking and truly remarkable exhibition". The cynic in me realises that by restricting the number of tickets, the National Gallery ensured they had a sell-out show on their hands. The Guardian assures us that this would  guarantee a 'civilised crowd'.
Room one. I feared the worse as there were three rows deep of people staring at a sketch. But room two onwards, the crowd had started to disperse and it did indeed become a civilised affair.
Of the nine sublime paintings on show, I am stunned by La Belle Ferronniere, returning countless times to stare at it. How he captured the essence of his subject and the reality of her features. The power of the painting is evident as her gaze follows you across the room.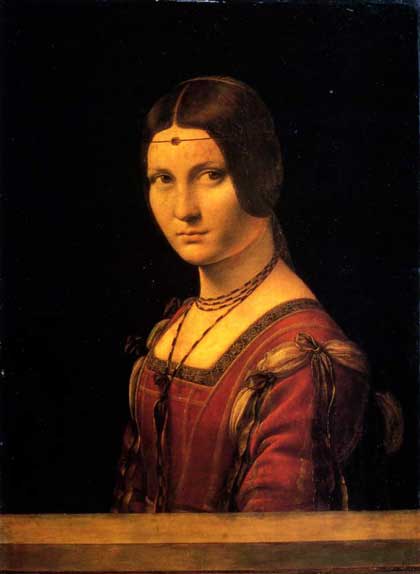 La Belle Ferronniere, about 1493-4 (Musee de Louvre)
What makes the exhibition such a success I think, is the fact that you come out with a greater understanding of what Leonardo da Vinci was like.  A confident man and a perfectionist who was not afraid, for example of working with a "sharpened metal drawing tool (metalpoint)" – a technique, we learn, that did not allow any mistakes. Through the many sketches and studies on view, we see how he sought perfection, returning again and again to the same topic in order to master it. We see how he reworked sketches as he 'rethought' his work. We understand how revolutionary a man he was, using red chalk as a medium to capture "the fall of light on soft skin" and bringing naturalism through the use of a limited palette, for example.
I smiled as I imagined Leonardo starting on a project but getting distracted by other ideas. His mind was so prolific. So many ideas and so little time you can imagine him thinking!
So… I wondered as I made my way home what he would do for us if he was alive today?